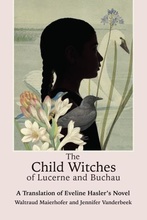 The Child Witches of Lucerne and Buchau: A Translation of Eveline Hasler's Novel
Edited and translated by Waltraud Maierhofer — original author Eveline Hasler — translated by Jenniefer Vanderbeek — introduction by Waltraud Maierhofer
A translation of Eveline Hasler's novel, Die Vogelmacherin— literally "The Bird-Maker Girl"—this book tells the story of three children who were prosecuted for witchcraft in seventeenth-century Europe. Challenging strict boundaries between fiction and history, Hasler's novel draws on trial records and other archival sources that document the legal cases against these children. While the original work offers a detailed portrait of political and religious violence, Maierhofer goes a step further by providing essential context for the novel. Her wide-ranging introduction and meticulous annotations illuminate the relevance and wider significance of Hasler's writing. For the first time in English, this book brings Hasler's traumatic history of witchcraft trials to life, exposing the violence of a culture shaped by fear, authoritarian power, and ideals of conformity.
---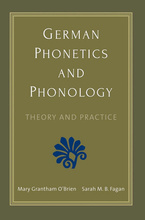 German Phonetics and Phonology: Theory and Practice
by Mary Grantham O'Brien and Sarah M. B. Fagan
The first course book designed to engage students in the pronunciation of modern German by grounding practice in theory.

An essential introduction to the pronunciation of modern German, this unique classroom text is designed to help mid- to upper-level undergraduate students of German produce more accurate and comprehensible German speech. Written in English in a clear and engaging style and employing a minimum of technical jargon, it is the first German phonetics and phonology text to focus on theory and practice, covering topics ranging from the analysis of one's own speech to historical developments and regional variation. This work includes a wealth of exercises supported by an ancillary website audio program designed to help students perceive and produce sounds and prosodic features more accurately. Addressing topics such as word stress, sentence stress, and intonation as well as the pronunciation of individual sounds, this one-of-a-kind primer provides its users with a solid basis in German phonetics and phonology in order to improve their pronunciation of German.