German Cultural Activities and Events
Planting Hope: The Anne Frank Tree Arrives in Iowa
On February 23, 1944, a 15-year-old girl gazed from an attic window at the topmost branches of a tree. The tree had become a sort of friend to her, a reminder of life beyond the small space to which she was confined and one of the few things she could see from the only window that was not blacked out. In her diary that day, she wrote, "I look up at the blue sky and the bare chestnut tree, on whose branches little raindrops shine, appearing like silver, and at the seagulls and other birds as they glide on the wind. As long as this exists…and I may live to see it, this sunshine, these cloudless skies, while this lasts, I cannot be unhappy."
Those words represent the hope that has made their author, Anne Frank, one of the major figures of World War II and a ubiquitous symbol of optimism in the face of unthinkable darkness. The fact that she came so close to surviving is also part of her story. She died almost a year after that entry, at Bergen-Belsen concentration camp, likely from typhoid. British forces liberated the camp only weeks later.
https://obermann.uiowa.edu/news/2021/10/planting-hope-anne-frank-tree-arrives-iowa
Kaffeeklatsch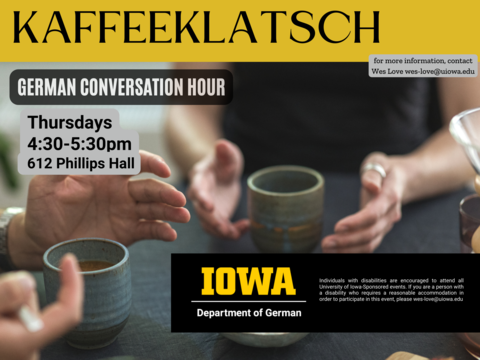 All students are welcome to join our German conversation hour, regardless of skill level.